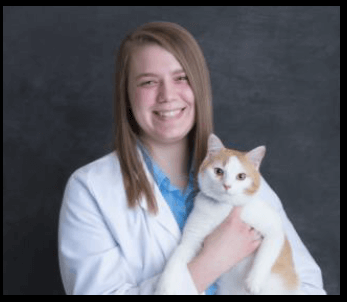 Dr. Madelyn Kelty was raised in Louisville, Kentucky, obtained her undergraduate degree from Eastern Kentucky University, and graduated from The College of Veterinary Medicine at Auburn University. She has a special interest in feline medicine as well as cardiology, ultrasound, and dentistry.
Dr. Kelty is the oldest in her family and shared her home growing up with her parents and six siblings. We are sure her upbringing gives new meaning to "herding cats"! Thankfully for us, she sought out new experiences and moved to Upstate New York. We are happy to provide her with a break from the southern summers.
Her personal pets include Mr. Sandman, a cat she adopted (as we all do!) while working in a veterinary practice. His one true love is food and because of that, he can do many tricks! Apple is her canine companion, and she loves a game of fetch but loathes bath time.
During her time off she enjoys playing video games, reading, hiking, and learning to play the guitar.
Dr. Kelty looks forward to sharing your pet's healthcare journey and loves to hear people talk about the bond families share with their furry friends.