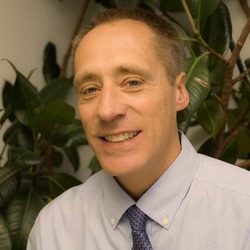 James H. Smith, Jr.
Veterinarian
Dr. James H. Smith was born and raised in the rural town of Eden, New York, 20 miles south of Buffalo. His teenage years were spent working on local dairy farms, where he developed a strong interest in working with animals, and especially in veterinary medicine. He received his undergraduate Animal Science degree from Cornell University. He continued his education, earning his Doctorate of Veterinary Medicine from Cornell in 1990. He was employed at the Colonial Veterinary Hospital as a kennel attendant, and upon graduation he accepted an associate position at the surgical referral practice. Remaining in Ithaca until 1992, Dr. Smith, his wife Cheryl, and his young family then moved to the Capital District where he worked at an area clinic as an associate veterinarian. His special interests in medicine include diagnostic imaging and surgery.
He envisioned a full-service small animal facility, providing comprehensive medical and surgical care for his patients. The Galway Veterinary Hospital was established in 1994 to fulfill his dream of providing patients with high-quality medical care.
Dr. Smith and Cheryl reside in Galway where they have raised their three children, Sarah, Justin, and Hannah. His love of animals follows him home, where his pets include domestic short-haired cats Buck, Conway and Weege, French bulldog Loretta and three English bulldogs Patsy, Willie and Waylon! On those rare occasions when he is away from Galway Veterinary Hospital, his hobbies include golf, following Major League Baseball, gardening and spending time with family. His distant retirement plans include sandy beaches and tiki huts.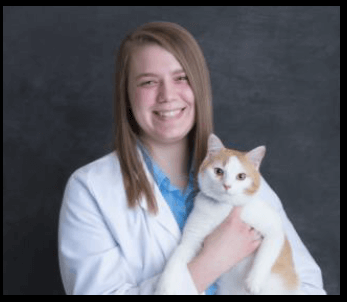 Madelyn Kelty
Veterinarian
Dr. Madelyn Kelty was raised in Louisville, Kentucky, obtained her undergraduate degree from Eastern Kentucky University, and graduated from The College of Veterinary Medicine at Auburn University. She has a special interest in feline medicine as well as cardiology, ultrasound, and dentistry.
Dr. Kelty is the oldest in her family and shared her home growing up with her parents and six siblings. We are sure her upbringing gives new meaning to "herding cats"! Thankfully for us, she sought out new experiences and moved to Upstate New York. We are happy to provide her with a break from the southern summers.
Her personal pets include Mr. Sandman, a cat she adopted (as we all do!) while working in a veterinary practice. His one true love is food and because of that, he can do many tricks! Apple is her canine companion, and she loves a game of fetch but loathes bath time.
During her time off she enjoys playing video games, reading, hiking, and learning to play the guitar.
Dr. Kelty looks forward to sharing your pet's healthcare journey and loves to hear people talk about the bond families share with their furry friends.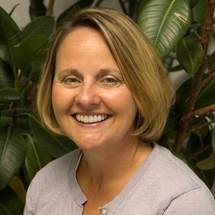 Cheryl Smith, C.V.P.M.
Hospital Administrator
Cheryl was raised in Ballston Spa, NY and graduated from Cornell University, majoring in agricultural economics. Upon graduation from Cornell, she and Dr. Smith were married and her journey into the world of veterinary medicine began. As their children matured, Cheryl's participation with Galway Veterinary Hospital expanded. She now serves as the Hospital Administrator, overseeing the daily management of the business.
She earned the designation of Certified Veterinary Practice Manager (CVPM) in 2009 by completing academic and practical requirements and passing a rigorous examination. She is also a graduate of the American Animal Hospital Association's (AAHA) Veterinary Management Institute (VMI). Cheryl is proud to be a Director on the AAHA Board which she joined in 2019.
Cheryl's activities away from GVH center around the education of children. She was a Galway Board of Education member for over ten years and continues to serve on the Washington Saratoga Warren Hamilton Essex BOCES Board. She and Dr. Smith are the proud parents three adult children, all residing outside of New York State.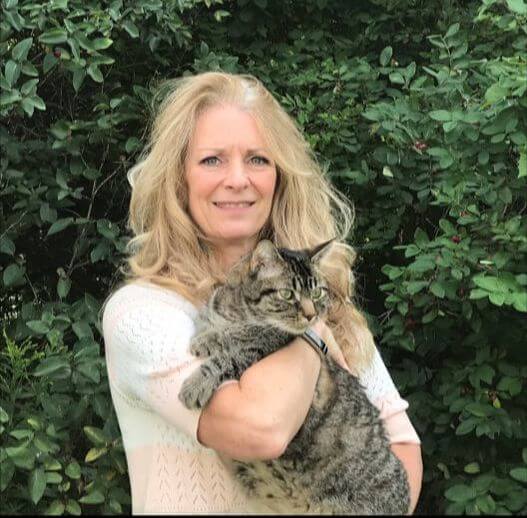 Missy
Customer Service Representative
Missy is often the first face people see at Galway Veterinary Hospital and she possesses the ability to make every client and patient know that they are her top priority. She grew up in Broadalbin, NY, and always seems to be able to make a special local connection with our clients. Missy's passion and interest in the field of veterinary medicine is pet wellbeing and preventative medicine. Her goal is to help our clients ensure that their pets live the healthiest and longest lives possible.
She worked for several years at Charlton School for Girls where she originated an equestrian program for the residents. Her next move was to Ballston Spa National Bank where she held various positions including Teller, Branch Manager, and Auditor. Her passion for animals and support for our American Animal Hospital Association (AAHA) Accreditation brought her to GVH in 2004. She is a 2006 graduate of the AAHA Veterinary Management Institute (VMI).
Missy and her husband Herman have lived in Galway for 34 years. She enjoys reading, antiquing and cooking. Her one son, Aaron, is a graduate of Oneonta State College with a degree in Secondary Education and English and of Union College with a master's degree in History and lives in the Capital District area. She also shares her life with her beloved pets: Seamus, a Pembroke Welsh Corgi, Satchel, a Border Collie and Forbes Brown (named after a favorite uncle who resided in Galway), a Maine Coon Cat. She also shares her prized work cat, Conway with Dr. Smith. When not working with her GVH clients and their pets, Missy is all about Agility, Agility, Agility!! She trains and competes in agility with her own furry companions. Her previous competition partner, Meadow, is a two-time National Champion in CPE. Missy and Meadow were featured on the Animal Planet program, Dogs 101, featuring the Pembroke Welsh Corgi.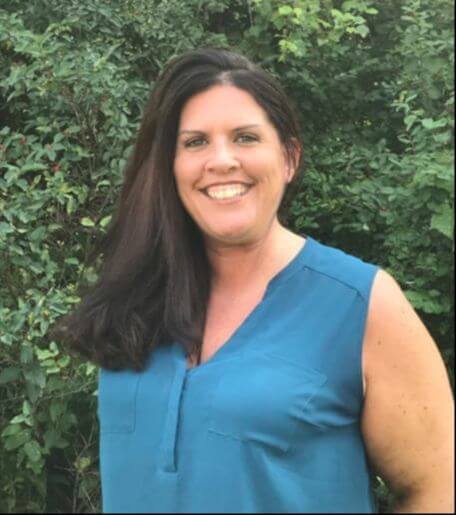 Erin
Customer Service Representative
Erin's thoughtful and efficient performance as a customer care representative is a reflection of her many years in the veterinary business. She began her career in direct patient care and her strong ability to instinctively understand and prioritize the needs of pets and pet parents is unmatched. Her calm and resourcefulness in emergency situations are equally matched with her genuine compassion for our patients and clients.
We can all imagine Erin as an Animal Kingdom Kilimanjaro Safari Guide at Walt Disney World and her Disney experience is evident in her extreme commitment to client service and communication.
Abby, is the new, eleven-year-old rescue in Erin's home.
Erin is our resident party planner at GVH and never misses an opportunity for a celebration. She is not content to simply decorate and accessorize the party but also bakes new, innovative, and especially tasty confections for her ever-willing GVH team expert tasters!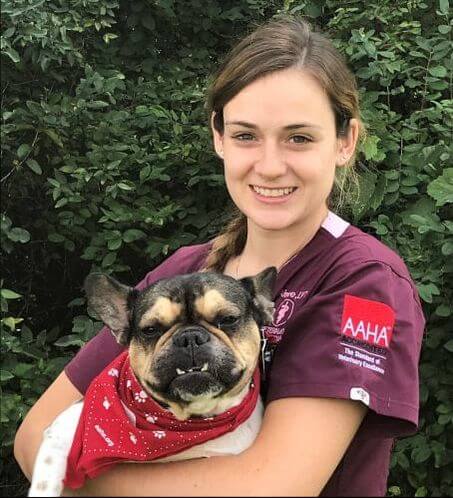 Aimee
Licensed Veterinary Technician
Our patients and pet parents are fortunate to have Aimee as a Licensed Veterinary Technician on our team! Pets under her care appreciate her quiet, calm manner and truly sense her commitment to their well-being. Aimee is very dedicated to learning and has earned both her Associates and her Bachelors degrees in Veterinary Technology.
Aimee is dedicated to maintaining our in-house laboratory, dental and surgical equipment so they are always available and prepared to treat incoming patients.  She is organized and methodical in her medical record-keeping for our patients.
Her devotion to pets continues at home. Aimee has recently added two goats and to her family of pets which already include her treasured horse Monster, active German Shepherd Arya, Johnny, Tikka a golden retriever, and a trio of felines Toothless, Nacho, and Critter. Dominick
Luckily for us and our patients, Dominick's original plan to pursue psychology led him to investigate animal behavior (way more fun than human behavior!) and he became an NYS Licensed Veterinary Technician.
Dominick is our caring, calm and sensible problem fixer. While his primary responsibility is treating and monitoring the pets in his expert care, he can also be found helping with computer or equipment issues and he is our resident assembler/installer of new devices to help our patients stay safe and comfortable.
He shares his life with his wife Laura, son Xander, and Maya "the enforcer" German Shepherd, Kira the French Bulldog, Grizzly, a Great Dane (who happens to be besties with Kira even though they both crave and fight for lots of attention) and Sushi their feline friend who tolerates the pack.
Originally from Long Island, Dominick is a homeowner in our very own Galway and spends his time away from GVH exercising, reading, and indulging in horror movies.