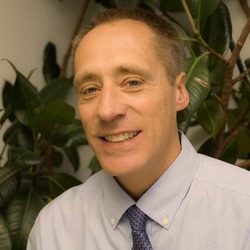 Dr. James H. Smith was born and raised in the rural town of Eden, New York, 20 miles south of Buffalo. His teenage years were spent working on local dairy farms, where he developed a strong interest in working with animals, and especially in veterinary medicine. He received his undergraduate Animal Science degree from Cornell University. He continued his education, earning his Doctorate of Veterinary Medicine from Cornell in 1990. He was employed at the Colonial Veterinary Hospital as a kennel attendant, and upon graduation he accepted an associate position at the surgical referral practice. Remaining in Ithaca until 1992, Dr. Smith, his wife Cheryl, and his young family then moved to the Capital District where he worked at an area clinic as an associate veterinarian. His special interests in medicine include diagnostic imaging and surgery.
He envisioned a full-service small animal facility, providing comprehensive medical and surgical care for his patients. The Galway Veterinary Hospital was established in 1994 to fulfill his dream of providing patients with high-quality medical care.
Dr. Smith and Cheryl reside in Galway where they have raised their three children, Sarah, Justin, and Hannah. His love of animals follows him home, where his pets include domestic short-haired cats Buck, Conway and Weege, French bulldog Loretta and three English bulldogs Patsy, Willie and Waylon! On those rare occasions when he is away from Galway Veterinary Hospital, his hobbies include golf, following Major League Baseball, gardening and spending time with family. His distant retirement plans include sandy beaches and tiki huts.