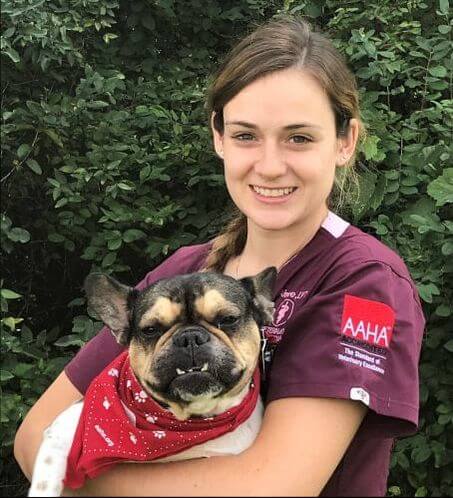 Our patients and pet parents are fortunate to have Aimee as a Licensed Veterinary Technician on our team! Pets under her care appreciate her quiet, calm manner and truly sense her commitment to their well-being. Aimee is very dedicated to learning and has earned both her Associates and her Bachelors degrees in Veterinary Technology.
Aimee is dedicated to maintaining our in-house laboratory, dental and surgical equipment so they are always available and prepared to treat incoming patients.  She is organized and methodical in her medical record-keeping for our patients.
Her devotion to pets continues at home. Aimee has recently added two goats and to her family of pets which already include her treasured horse Monster, active German Shepherd Arya, Johnny, Tikka a golden retriever, and a trio of felines Toothless, Nacho, and Critter.